Request Your Appointment

with Dentist Near You
WELCOME TO BRANDON GATE DENTAL CARE
YOUR DENTIST IN MALTON
At Brandon Gate Dental Care, our team of dedicated dentist and specialists is dedicated to ensuring that our patients feel and look their best. A smile says a lot about you, and we want to ensure that all of our patients have a smile that they cannot wait to share with all those they love. From preventative treatments to full smile makeovers, our dentist near you always strive to ensure that each and every patient that enters our clinic receives the highest standard of dental care available.
Our dentist in Malton prioritizes the importance of making you feel welcome and comfortable when you enter our practice. From the moment you walk through our doors, you will experience a calming and welcoming atmosphere, with a dentist in Mississauga that can't wait to tend to all your oral health needs. Keeping your comfort in mind, our office features a state-of-the-art treatment recovery unit, and our dental office near you aims to ensure that you have a positive visit from start to finish. If you'd like to learn more about our dental clinic near you, click the button below!

Family-Friendly Dental Office
Your entire family, young and old, is welcome at Brandon Gate Dental Care. From children to seniors, our dentist near you provide an inclusive environment for patients to receive quality dental care. Our dental clinic near you is here to help.

Personalized Dental Care
At Brandon Gate Dental Care, our dentist near you treats each patient in a manner that is specific to their unique dental needs.

Same-Day Emergency Services
Are you experiencing a dental emergency? Contact our office today to receive immediate treatment from our dentist in Malton.
YOUR ORAL HEALTH
IS OUR TOP PRIORITY
Our experienced and skilled dental team takes a sincere interest in our patients and respectfully takes a holistic approach to dentistry, as our dentist near you believe oral health is the key to overall health and wellness. Our focus on high-quality dental care helps patients achieve a higher level of health, confidence and well-being. We work to educate our patients on the best way to maintain oral health at home, and understand that patient knowledge is the key to ensuring they maintain optimal oral health for years to come.
Visiting the dentist is not always the most exciting or fun activity for most patients. We understand that visiting the dentist can cause anxiety for certain patients, which is why we offer sedation options during treatment to ensure they are relaxed and comfortable during treatment. Our dentist in Malton will do everything they can to make sure that your dental experience is nothing short of excellent, so do not feel shy to voice any of your questions or concerns to them. At our dental clinic near you, we put your comfort first.
From children to seniors, our patients are our top priority and it is our duty to provide them with an enjoyable experience. If you or your family are looking for a new family dentist in Malton contact our office today. We can't wait to see your smile! Please contact us to book an appointment with our dentist in Mississauga today.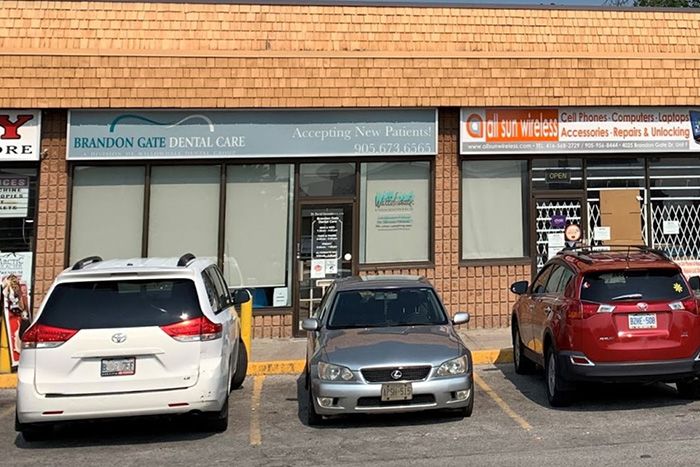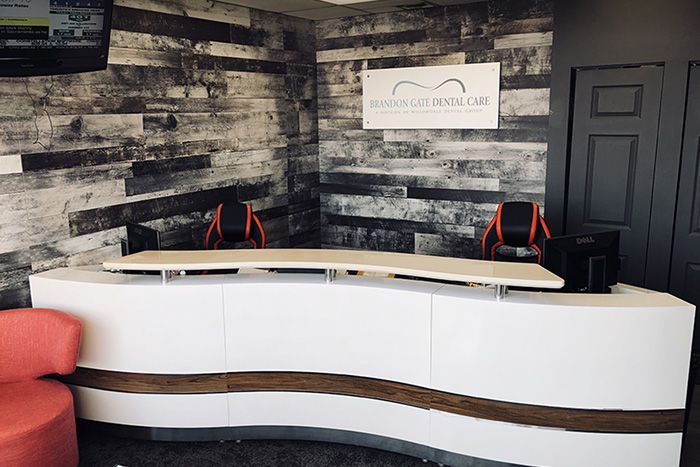 A very personalized experience. You feel like family when you visit Brandon Gate Dental. You feel the warmth of the easy conversations between Doctors and office staff here, that extends directly to professional and involved patient care, they take the time to not only care about your oral health needs but yourself as an individual. Highly recommend this office!
Angelica C.
I have been a patient for more than 20 years. They are almost family at this point lol. Always professional, always clean and there to make you feel comfortable during appointments. Thank you for always giving my family the best care and always going above and beyond.
Dani R.
My recent dental experience to Brandon Gate Dental was a pleasant and comfortable. My dental hygienist was calm, understanding, and receptive to my concerns and provided solutions to address my concerns. As always, the office staff satisfied all my dental related needs as well.
Isabelle K.